Large Adjustable Rig Half Stone/Grid Bundle - Large BGE
Ceramic Grill Store
CGS Accessory
Ceramic Grill Store
The best way to create dual temperature zones or add more cooking area the Large EGG.
IMPORTANT: This Bundle is an add-on accessory to the Large Adjustable Rig. The Large Adjustable Rig is NOT INCLUDED but can be purchased separately or in the Adjustable Rig R&B Combo Package.
The Bundle is an efficient way to increase capacity and/or create two temperature zones. It's a popular set-up for searing steaks, burgers and such. Don't miss-out on adding the Spider!
A Half Grid and/or Half Stone adds a new dimension when grilling on the Adjustable Rig. It's a great way to grill at different temperatures, hold food or be creative on multiple levels with the Large Adjustable Rig. 
Let your imagination run and have some fun with the Large Big Green EGG®.
Bundle Includes:
9"x18" Half Stainless Grid sits atop the backside of the Rig;
15" Half Ceramic Stone provides the half indirect set-up;  
Large Half Stone Hanger w/ Crossbar holds the Half Stone under the Half or Oval Grid.

Add the Spider for $12.....perfect add-on for more capability....
No other racking system matches the Large Adjustable Rig for flexibility when it comes to half grid/stone capabilities - we'll put money on it!
We recommend the 15" Half Stone in this set-up because if you have the Large Spider, you can do this too. Create a dual zone cooking scenario at the fire ring. We dig the spider's capabilities, so we make it possible for you to add it for just $12 bucks!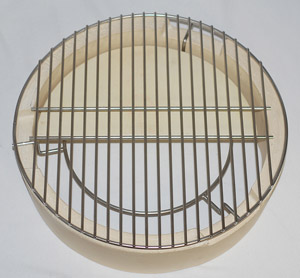 Large Big Green EGG and Large Adjustable Rig R&B Combo components are not included in the Bundle.