The Rig Extender fits the Large Adjustable Rig. The Large Rig Extender attaches to the upper ring on the Large Adjustable Rig. It extends the Rig's work platform from 6" to 7.5" above the fire ring. It's our favorite height to grill butterfly (spatchcock) chicken, bake pizza or set-up double for ribs or chicken wings.
The Rig Extender is used in the chicken video to hold the 16" Sliding D Grid - top grid. The Extender is also used in the rib video to hold the upper 13"x17" Oval Grid. Atop the Extender is a great place to do pizza on our 15" Stone. 
The 16" Sliding D Grid slides back along the Rig Extender for easy access to a lower grid, lump, drip pan and such. Use the Stop Support as a push back guide.  To bring the D Grid forward, just close the dome.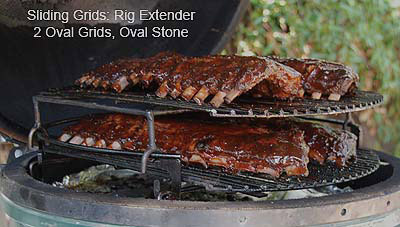 The Rig Extender is a recommended piece for the Slide Guide system. Material is 304 Stainless Steel.  Made in the USA exclusively by CGS, Ceramic Grill Store. 
Really Cool Setup!! Great Quality
I saw a video on the CGS site that showed how you can use this extender on your Adjustable Rig for easier access to items cooking on lower levels of the Rig. It works just as advertised and I am really happy with this extender.
Must have accessory for the BGE
This accessory works well. I've had a few multi level racks but this one is much more versatile and user friendly
Excellent!
I've lost count how many times I've made use of the extender when cooking on my egg since I got it (not that long ago). I often will cook my meats at a lower level and have a full grid of veggies cooking up top on the extender. Fully maximize your cook space inside your egg and go for an extender!!
one more level of cooking
Provides room for an additional grate (3 grates total!), or get's your pizza stone up the ultimate height within the kamado grill for cooking pizza.
Great Addition
The rig extender as in all products here at the ceramic store is top notch quality and a great addition to my grill. It is perfect for getting your pizza high up in the dome or just adding another level to cook on. Love IT!!