Designed to fit the 2015-21 24" Louisiana Grills/Pit Boss Ceramic Grills by Dansons sold through Costco and other retail outlets. 
The LG/Pit Boss Spider creates a platform 2" inside the fire bowl.  The LG/Pit Boss Spider sits in the fire bowl's three notches.  Use the Spider to hold:   

-   (2) 16" Half Stones and 16" Stainless Round Drip Pan.
-   (1) 16" Half Stone to create a dual temperature zone on grid(s) above.  
-   14"-16" grid (16" medium CI Grid is good) to sear close to the lump;
-   16" wok for Asian flair, Spider can be set up or down. 
Quick Specs:
-  2" drop into the fire bowl, Spider down position in notches;
-  1.75" elevation above the fire bowl, Spider up position with legs atop fire bowl;
-  Fabricated with 1/4 inch 304 stainless steel. Leg welds are Tig welds for improved stability;
-  Made in the USA by CGS, Ceramic Grill Store.
Measurement:  Before ordering verify the following measurements to insure the LG/Pit Boss Spider fits your LG or Pit Boss grill.  If your measurements are more than an 1/8" different, give us a call.   
-  inside diameter of the grill across the top of the fire bowl is approximately 21.5 inches;
-  inside diameter of the fire bowl along the top is approximately 18.25 inches.  
See picture for more detail on the LG/Pit Boss Spider's dimensions.  All dimensions +/-  3/32".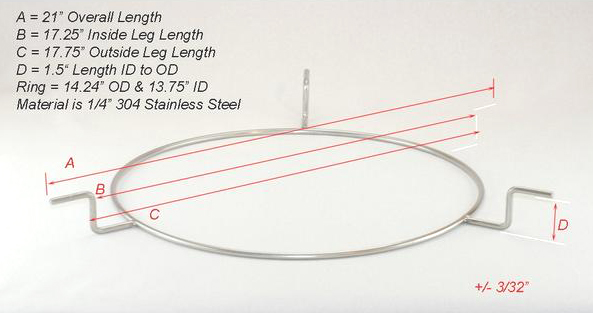 Must Have!
The spider rig is a must have for anyone with a Kamado. I have used it on my Grilla Grills Kong for a while now and it is very versitile. I would definitely recommend a half stone and also make sure to get the cast iron grate for searing steaks.
this works really well on my 22" pit boss ceramic grill that I bought from costco a couple years ago
this works really well on my 22" pit boss ceramic grill that I bought from costco a couple years ago
Perfect Fit
Just received the Spider, 2 half moons & a drip pan. Fits my 24" Pit boss like a glove. Looking forward to summer of Low and Slow thanks to these great products.
Pit Boss
I just wanted to drop you a quick line to say thank-you for an excellent order experience. All of the items I purchased were TOP NOTCH quality at a reasonable price and with quick free shipping. I have read reviews on your products and they come highly recommended from the guys at the Kamado Guru forum ( you should thank them as I had never heard of Ceramic Grill store before reading that forum) and I was expecting some nice stuff but the products I really were well beyond what I expected. Thank you very much. I will certainly purchase again, any expansion of items for the Pit Boss 24 would be awesome!
AWESOME!
We ordered the spider, half deflector, full deflector and a drip pan. They are an awesome addition to our Pit Boss Ceramic Grill! We love this grill, and were so glad to find the ceramicgrillstore.com offered the accessories we wanted.