Pizza Oven Wedges, Big Green EGG, 128027
Original price
$119.95
-
Original price
$119.95
[ST] Frequently Bought Together
[ST] Frequently Bought Together
Pizza Wedges fit the Large Big Green EGG.
The Large Big Green EGG Pizza Oven Wedges transform your EGG into a pizza making kamado. The Wedges create a front opening where you can easily check on the cook, and slide pizzas in & out.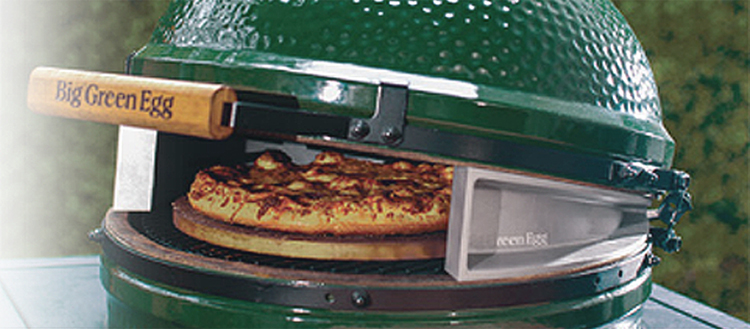 The two Wedges set up quickly, simply open the dome, place the Wedges on the lower base and close the dome. The Wedges pair up nicely in the back of the EGG and the weight of the dome keeps the Pizza Wedges in position.
You will need a rack system (PSWoo, Adjustable Rig or EGGspander Basket) to hold the pizza stone at the Wedge opening. Depending on temperatures and dough thickness, a ConvEGGtor or full round stone (13" 14" or 15") may be needed to act as a heat deflector.
To protect the outer edge of the pizza stone from overheating, we recommend the lower deflector stone be equal to or slightly larger than the upper pizza stone. A small air gap between deflector and Pizza stone is recommended. Check our ceramic stones and spacers, here.
We also recommend baking temperatures in the low to mid 400°F range, following basic directions for most frozen or take & bake pizzas. If you want to go high temperature, (700°F) then make sure you have a deflecting (blocking) stone and plenty of open air around the pieces to insure adequate airflow through the EGG. 
The Pizza Wedges are only available for Large Green EGG Kamado grills at this time. 

quick delivery
Have not used yet. They delivered the item quiclky
BGE Pizza Wedge & PSWoo
After seeing that BGE now has a Pizza Wedge available, I found the Ceramic Grill Store website. Tom's video was very helpful and a friend and I both bought the parts needed. I've only had the chance once to use it once yesterday, but it was fantastic and we found a great way to make pizza.