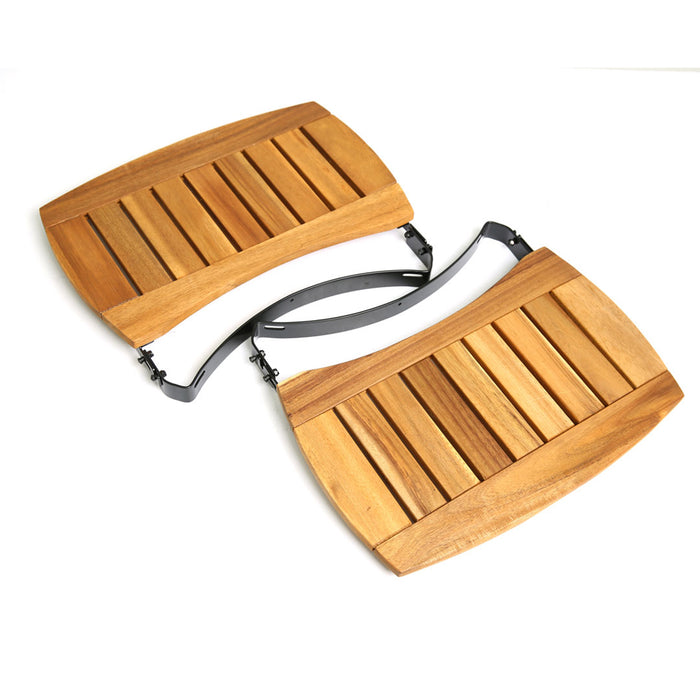 Acacia EGG Mates - Big Green Egg
Original price
$89.95
-
Original price
$162.95
EGG Mates, nest side tables, add two convenient work and serving areas at the EGG. 
Important: Big Green EGG offer two styles of EGG Mates: Acacia Wood and Composite. We recommend Wood over Composite, as we found wood handles hot items better. For the XL and Large EGGs, Big Green EGG offers two EGG Mate sizes: 17.5"x15" and 21"x15". This is an easy choice, stay big, 21"x15": You'll be glad you did. See below on what we stock.    
The Egg Mates attach to the lower band on the Egg. They are typically used with a Nest, Integrated Nest or freestanding Egg. The Egg Mates are sold in pairs, one one each side of the Egg.
2XL Acacia Mates, 121141, 21" x 15"
XL Acacia Mates, 121134, 21" x 15"

Large Acacia Mates, 121127, 21" x 15"

Medium Acacia Mates, 120670, 17.5" x 11"

Small Acacia Mates, 120663, 17.5" x 11"
MiniMax Acacia Mates, 121844
The Mates provide a work area on both sides of the Egg to place pans, food and such. The Egg Mates fold down quickly when not in use for a cleaner look. Mates fit under the Nest Egg Cover. . 

Acacia are mortise and tenon joints – strong, durable, and affected little by expansion or contraction due to temperature and humidity changes. Light coating of oil with UV stabilizers. Same brackets as current Mates.
Assembly is quick and straightforward. 
Acacia Side Mates
Great product and exceptional service. I will do business again with retailer.