Update on Availability: Hopefully, late May or June. 
Finally, a stylish EGG® cart that is super functional 

All we can say is: when current EGG owners give The Cuna cart the 'once over' in our store, the overwhelming consensus is.....very cool and super functional.
Here are the "likes" on The Cuna cart:
big Stainless shelves that fold easily and hold weight;
clean site lines with the tubular design;
easy to set the EGG, slides straight in, no up & over;
handy bottom storage rack;
big wheels, rolls easily, wheel locks;
slide out ash tray, simple solution to a messy job.
The Cuna cart is available for the Large or XL EGG. Cuna covers are available too. The Cuna goes together quickly - add wheels, 4 bolts/nuts and 2 pins.
Here is a quick video on the cart. The Cuna cart will bring years of enjoyment. Looks cool too!
Please note, due to the special nature of the product, grill covers are non-returnable and non-refundable. 
Cuna Cart Footprint:
Large 25.5" x 21" base,

60.5" Span Shelves Up
26" Span Shelves Down

XL: 27.5" x 23.5" base,

67" Span Shleves Up
33" Span Shelves Down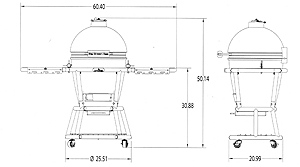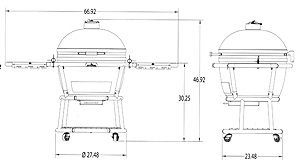 Not affiliated with Big Green EGG. EGGs shown are not included. 
Excellent Cart Option for the BGE
I've had my XL for several years and 2 years ago shelled out $2 grand for a Challenger cart. Well... While functional, it was a beast and looked hideous on the back porch. Wife was constantly on my back about it. So the hunt started and I came across the Cuna Cart. Took 25 minutes to put together, including unboxing. Here why this is (IMHO) the best cart option on the market:
- Incredibly robust and sturdy
- Wheels are large, smooth and all of them lock. They can also be adjusted for height for uneven surfaces.
- Adjustable spacers that keep the egg tight inside the cart
- Shelves that easily fold
- Small footprint which helps the wife approval factor
Highly recommend