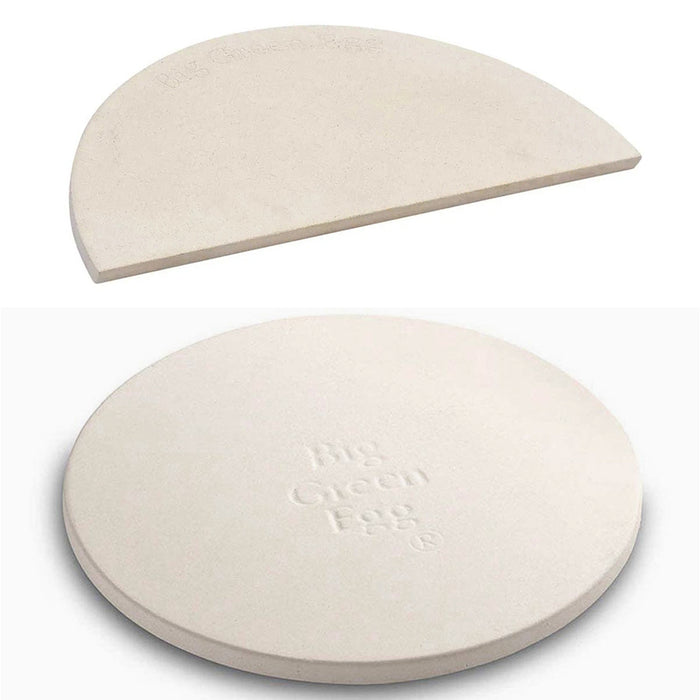 21 Inch Big Green EGG Ceramic Heat Deflectors, Pizza Stones
Original price
$49.95
-
Original price
$99.95
[ST] Frequently Bought Together
[ST] Frequently Bought Together
Big Green EGG's 21" Full Round, 401274, and Half Moon ConvEGGtor, 121820, Ceramic Stones.
Most Common uses are a Heat Deflector or Pizza Stone 
Pizza Stone for grills with a 24" or larger cooking grid,
XL Big Green EGG - Heat Deflector on EGG's XL EGGspander,
Approximate stone specifications are 21" diameter, 3/4" thickness and high refractory ceramics. Stone's diameter can vary +/- 1/8".

Use: Best to set the stone in the grill as the grill comes to temperature to prevent thermal shock. Ceramic Stones absorb moisture like sponges, so protect the topside of the Stone with foil or drip pan.
Care: Do not oil or use dish detergents on the stone. Do not do clean with high heat or in the dishwasher.
Check out our 18" Stainless Drip Pan, Ceramic Spacers, and pizza Turners. Extend the pan's coverage with foil to catch drippings. Use the Spacers to lift the pizza stone above the blocking stone. Use the long Turner to work/check the dough during the cook.
Big Green EGG product