MiniMax Woo Ring, MMBGE
Original price
$39.99
-
Original price
$95.97
This MiniMax Woo Ring fits the

current

MiniMax Big Green EGG®. It does not fit other manufacturers' grills.
MiniMax Woo is a great way to add versatility to the MiniMax Big Green EGG®. The MiniMax Woo offers more options than the Big Green EGG convEGGtor®. It's easy to:
grill on a raise the grid;
add a 10" ceramic stone and 10" drip pan for BBQ smoking;
go one or two 10" stones for pizza; and
gain quick access to the lump.
Important: Late 2015, BGE modified the MiniMax fire ring. You need to take a measurement to insure use. Measure from the felt atop the EGG base to the top of the fire ring (do not measure into the notches). The fire ring is what your cooking grid sits on:
If your measurement is approximately 1.50", you are good to go. The Mini Max Woo fits your grill.

If your measurement is approximately 0.75", unfortunately we no long offer a MiniMax Woo Ring for this grill. This is the original MiniMax grill that was in production for a very short time.

 
With the Mini Max Woo's top ring approximately an inch above the felt line, it is easy to lift out the entire indirect set-up. No need to disassemble the set-up, like you do with the MiniMax ConvEGGtor. Foil the Drip Pan for extended coverage and quick clean up. Handles are an option for a quicker grip.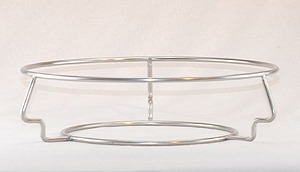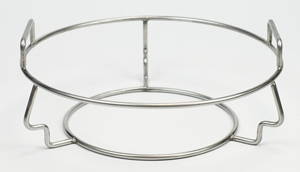 For an indirect set-up, add the 10" Round Ceramic Stone and 10" Stainless Drip Pan to make a ConvEGGtor® like set-up.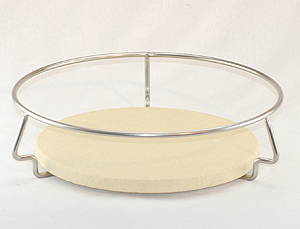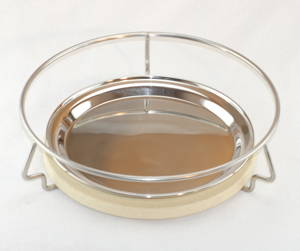 For pizza, add a second 10" Ceramic Stone. The pizza stone sits on the grid atop the Woo.
The MiniMax Woo is fabrciated using 1/4" 304 Stainless Round bar. MiniMax Woo, 10" Round Ceramic Stone and 10" Stainless Drip Pan pictured are a Ceramic Grill Store Exclusive. The MiniMax Woo is our design and proudly "Made in the USA" in our fabrication shop.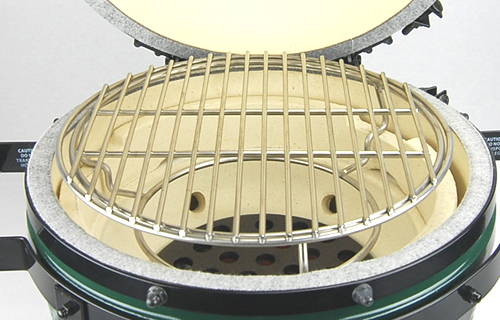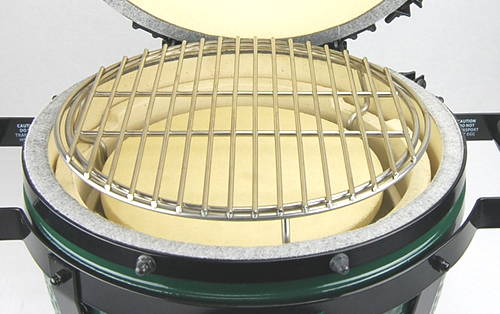 SIX STARS - Another Great Product from a Great Store
This MM Woo Ring along with the 10" stone and drip pan are perfect for our new MiniMax. From a $$ standpoint it just made sense. We could have bought an OEM product to deflect the heat, but the one piece alone would have been more than 60% of the cost of the complete set up we got from the CGS (without the added Woo Ring and perfect sized Drip Pan). And, the real deal is that - this product is superior. 1. It still affords you direct or indirect cooking (and the 10" stone is the exact dimension of the circular part of the OEM product, though it's a thicker, more robust stone), 2. It raises the cooking grate a little further from the coals. The original set up of the MM results in the cooking grate being very close to the heat; this helps resolve that issue both direct and indirect. 3. It creates more space (bigger gap) between the deflector and the cooking grate which allows me to use a drip pan placed raised off of the stone with ceramic spacers (also from CGS and necessary to keep liquid in the drip pan from boiling/frying when sitting directly on the stone). The original OEM product did not allow enough space between the deflector surface and the cooking grate for the raised drip pan.
Without a doubt I'm a fan of CGS products, we've bought several products for all three of our BGEs (MM, L, & XL). All of these products are of professional quality and work perfect for our eggs. That coupled with first class Customer Service means you can't go wrong!
Well, I've got to run now... got to go fire up the XL to roast 25 Lbs of Hatch Green Chiles then BBQ some chicken thighs for dinner. Going to be good tonight..... Cheers!
Best regards,
TB
WooRing
My woo ring worked fantastic in my new mini max green egg! Now I can smoke, convection cook and grill just like my big green egg!!!
Works great
Fit and worked perfectly on my Mini Max!
Awesome!!
I was about to make something just like this and I met a guy and he told me to check this company and product out.
Works perfect as I needed it to. Definitely a game changer.
Great product.
MiniMax Woo Ring
Looks great and fits perfect. Haven't used it yet but it is just what I needed.