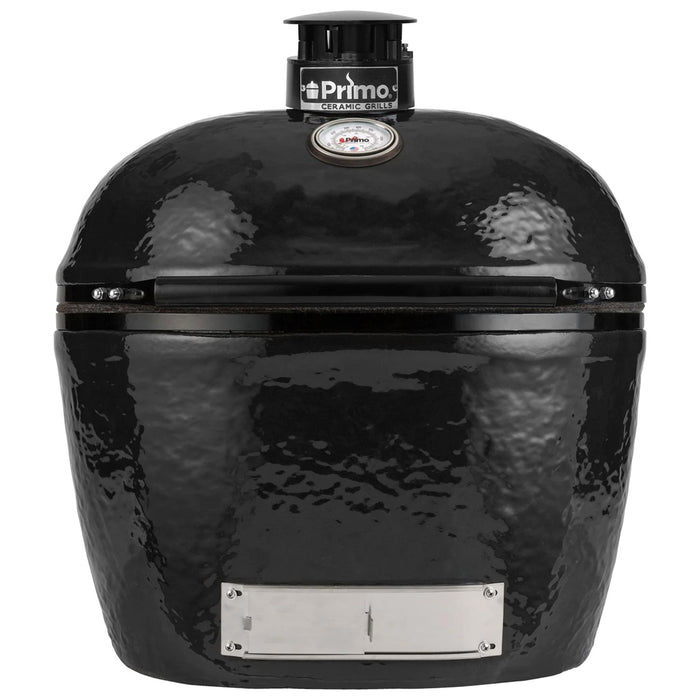 XL Oval Grill Packages - Primo Grills
Original price
$1,619.00
-
Original price
$2,414.00
Primo requires online pricing be displayed at MSRP. If you are in the Dallas Fort Worth Metroplex, we'll save you hundreds on your Primo X-Large Oval Grill purchase. Ceramic Grills is what we do best, including the Primo X-Large Oval.
Primo X-Large Oval Grill Options:
PGCXLC, All-In-One includes cart and side shelves, Heat Deflector Racks, Ceramic Deflector Plates and Firebox Divider

PGCXLH, Grill only for Outdoor Kitchens, Tables or Carts - PG00368 & PG00370 are the most popular cart options.
PGCXLHJ, Jack Daniels Edition Grill for Outdoor Kitchens, Tables or Carts. 
With the grill only (PGCXLH), Primo does not include the Rack and Plates needed to smoke BBQ. Not to worry, we include CGS Racks and Plates FREE with each grill Purchase - a $214 Savings. 
Plus, we include an Ash Tool, Grid Gripper, Fire Starters and Bag of Charcoal with all X-Large Oval Grills. 
The Primo X-Large is the biggest Oval in the Primo Grill Line. If you are stuck thinking the XL Big Green EGG® or Kamado Joe Big Joe are too big, then the Primo XL is a good pick. At 400 Sq. inches, it's approximately 50 Sq. Inches smaller than the XL EGG and Kamado Joe Big Joe. 
Don't let the slightly smaller size worry you, the Primo X-Large Oval long oval shape is perfect for smoking a big brisket, long ribs or multiple pork butts. The XL Oval's firebox can be divided for dual temperature or quick/small grilling cooks. Sear steaks on one side while roasting veggies on the other side. 
Highly Recommended Accessories:
Ceramic Feet (PG00400), you'll need them to elevate the X-Large Primo Oval on built-in or combustible (wood) table applications.
Extension Racks (PG00332) - One works great for adding more grilling area. Use two for big, low & slow BBQ cooks.
Divider Plate (PG00334) - ideal for shrinking the grilling area or creating dual temperature zones. Recommended for grilling cooks.
Cast Iron Searing Grate (PG00361) - Perfect solution for creating the highly desired, checkerboard grill marks. 
Specifications

Grill Weight -  230 lbs., 
Main Cooking Area - 400 sq in.,  
Optional Extension Racks - 280 sq in.      
Total Potential Cooking Area - 680 sq in.      
Main Cooking Grid - 18.5" x 25"
Main Cooking Grid Two-Piece Reversible  
Dual-Function Kontrol Metal Top
Stainless Steel Draft Door
Cast Iron Charcoal Grate
Made in the USA
20 Year Warranty Limited Lifetime on Ceramic Parts
Manufactured by Promo Grill.
At Ceramic Grill Store - ceramic grills is what we do, bigger and better than anyone! We'll show you how to take full advantage of the Primo Oval design. No dealer can match us on knowledge, availability or price. We beat them all! 
ACGP Inc. has been designing and fabricating innovative ceramic grill accessories since 2005 in Denton Texas. Our customer base is world wide.