Rotisserie Kit, Big Green EGG
Sold out
Original price
$329.95
-
Original price
$399.95
We spun in our Big Green EGGs well over a decade ago, even before the kamado joe rotisserie. For us, rotisserie grilling adds another level of excitement. It's just a fun way to shake things up and spin out of that grilling and barbequing funk we all fall into from time to time. 
Plus, it's more than just throwing the rotisserie on and flipping a switch. You get to play with fire/smoke control, partitioning the firebox (direct vs. indirect) and creative ways to add flavor by wet mop basting. You will catch yourself thinking.....I wonder if I can spin that.....  It's not an every cook event, but there is something truly enjoyable about popping open a couple beers and spinning something on a pleasant Saturday afternoon. 
The kit comes with the traditional rotisserie spit, but also works seamlessly with flat or tumbler style rotisserie baskets.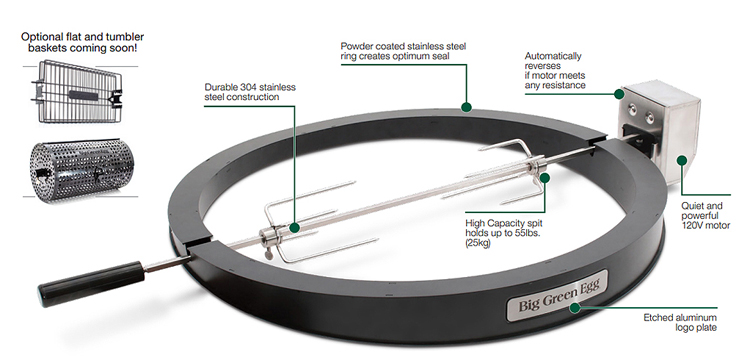 Only available for Large and XL Big Green EGG Kamado grills.