Mini Woo fits the Mini Big Green EGG®
New design for 2020 -  create more flexibility with your mini!
The Mini Woo Ring fits the Mini Big Green EGG with 10" diameter Stainless cooking grid. We recommend measuring your grid, as Big Green EGG offered several different grid sizes over the years. Call us, if you need the 10" grid. 
The Mini Woo's design includes a rectangular base and two half moon rings. The rings are open ended, so the Mini's 10" grid will sit flush on the rings.
The Mini Woo is fabricated from 1/4" diameter 304 Stainless Steel. The overall height is approximately 1.3". We fabricate them in our shop - Made in the USA.
As pictured below, the Mini Woo's rectangular base sits on the flat, top section of the fire ring. The Woo does not sit in the four notches atop the fire ring. 
Note: Handles can't be added to the Mini Woo. 
You can add a ceramic stone under the grid. For round, an 8" diameter stone is about the max size. In-house, we rough cut an 8 sided stone, pictured below. The stone sits atop the rectangular base, slightly above the fire ring.
As a side note, we really dig the Carrier for the Mini Big Green EGG, Give us a call if you like to order it.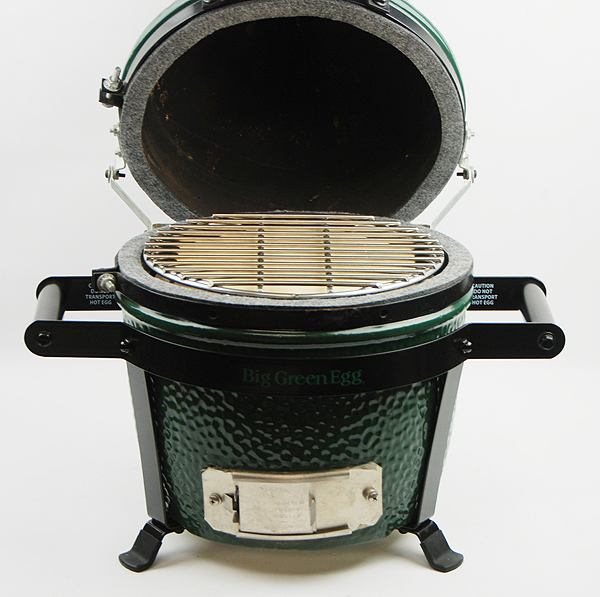 Big Green EGG no longer makes a cast iron grid for the Mini EGG.
Excellent product!
Performed as advertised. Along with 2 8.5" pizza stones, turned my mini egg into a fully functional machine.
Must-Have accessory for the Mini
Works great as a way to raise the grid on the Mini BGE. The Woo makes the Mini a real workhorse for indirect cooking too. One thing though, if you buy the Mini Woo, do yourself a favor and buy the grill gripper on this site (PPG-8 is the part number). While the photo looks just like the grill gripper that BGE sells, this one is different (photo is not accurate) and grabs the Mini Woo because it has a different bend to it so it hooks under the Woo. My BGE one doesn't work when trying to grab the Mini Woo.
Nice addition to Mini
This accessory works good. Wish the grid was more stable on the woo but it is very functional. I've found that with the 8" pizza stone to make indirect, there isn't a lot of air flow around the setup but it does work fine. When cooking pizza on the stone, definitely need to keep the temperature down.
Brings indirect cooking to the mini
Only product of its kind. Works perfectly. American ingenuity at work. Solving a need through product engineering! Thank you!
must have accessory for mini
Great accessory. Raises food plus can put pizza stone in and cook indirect. Great quality.