| | |
| --- | --- |
| | |
| | Use 330KJ3 Discount Code @ Checkout |
Kamado Joe anticipates new orders ship by mid to late July.
The Kamado Joe Classic Joe 3 is the newest Classic grill from Kamado Joe. Classic 3 comes in one model, KJ23RHCI-A and includes cart & side shelves. A built-in model is in the works but no release date has been set for it.
The Classic Joe 3 includes an impressive list of upgrades over the Classic 2. Upgrades include: sleeker looking cart with lower storage, aluminum side shelves, deeper base, 3 level Divide & Conquer system, lump basket with divider and Slo-Roller Technology. For more detail, here the link to our comparison page: Compare Joe 2 vs. Joe 3
Shipping:  We have it covered with FREE shipping. The Classic Joe 3 ships via LTL freight truck with liftgate service and delivery appointment. Trust us on needing the liftgate. Other accessories will ship from Kamado Joe or us, whichever is easiest. We'll ship via Fedex Ground. You'll receive tracking info on all shipments. We take the hassle out of getting the grill home. If you are local to the DFW Metroplex, stop by our store in Denton and save more.
A Heads-up:  From time to time, other websites offer an Free Accessory Package (heat deflector, D&C cooking rack, grid gripper & ash tool) as an enticement to purchase. Just to let you know, these items come standard with the Classic Joe 3 grills. You get them automatically with the grill. We mention this because several of ya'll have asked us about it.
Authorized Dealer: Ceramic Grill Store is an authorized Kamado dealer for both, online and in-store, sales. We started selling Kamado Joes in 2014. Kamado grills is what we do - Best Prices, Coolest Accessories since 2005. We are the most knowledgeable Kamado Joe dealer on the web and best retail store in North Texas.
On a Kamado Joe ceramic grill, virtually any cook is possible: cold smoke, grill, low & slow BBQ, sear/blacken/char, bake, bake/grill pizza and wok hot & fast. There are only two cooks we don't recommend, although possible: deep oil frying and dehydrating. The Classic Joe 3 is perfect for families and small entertaining.
The Classic Joe 3 brings new technology to ceramic grills. The patented Hyperbolic Insert is a new way to set-up for smoking and baking. The insert creates swirling air motion to even out cooking temperatures. The insert is Teflon coated cast aluminum and replaces the ceramic deflector plates. Please note, the insert's recommended temperature limit is 500°F. No worries, you can still rock high temp cooks, as the Classic Joe 3 includes a pair of half moon, ceramic plates.
Hyperbolic Insert
The Divide & Conquer Rack is 3 levels. Bottom level is at the top of the hyperbolic insert. The top level is slightly above gasket level. Approximate spacing between levels is 4". The upper level provides beneficial distance from the lump when grilling in the 325° to 400° F range.
The Classic Joe 3 comes with a robust, charcoal lump basket. The basket makes easy work out of a dirty job - cleaning out the ash between cooks. The basket includes a divider plate if you need to shrink or divide the fire.
The cart is a new and offers a sleek clean look with the Classic Joe 3. The new cart adds a storage shelf directly under the grill. The side shelves are aluminum for better wear and heat resistance. The cart is powder coated galvanized steel. The shelves are powder coated aluminum.
The Classic Joe 3 comes with all the same features Kamado Joe owners have come to love and appreciate:
Airlift Hinge
Kontrol Tower Top Vent
AMP multi-piece firebox
Heavy duty Stainless Cooking Grids
Wire Mesh Gasket
Sliding Ash Tray
Grill Gripper & Ash Tool
Best in Class Grill Warranty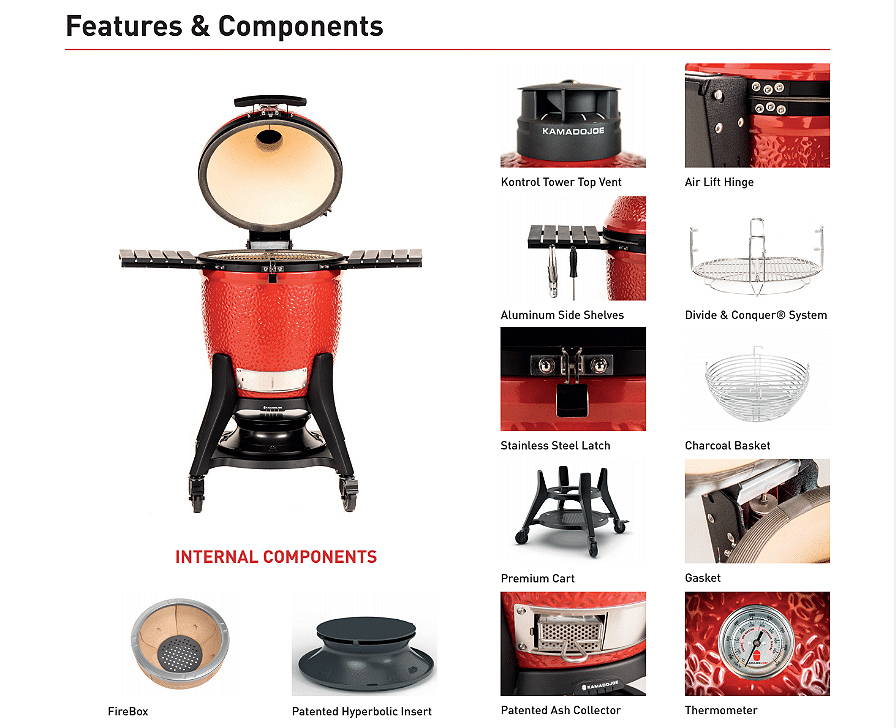 The Classic Joe 3 comes in a big box. To transport the box, it takes an open bed pick up truck. The Classic Joe 3 is 34" tall, out of the box and cart. Most important, the Classic 3 won't fit most SUVs, so check your measurements before hand. We do not recommend laying ceramic grills on their side - it's asking for trouble.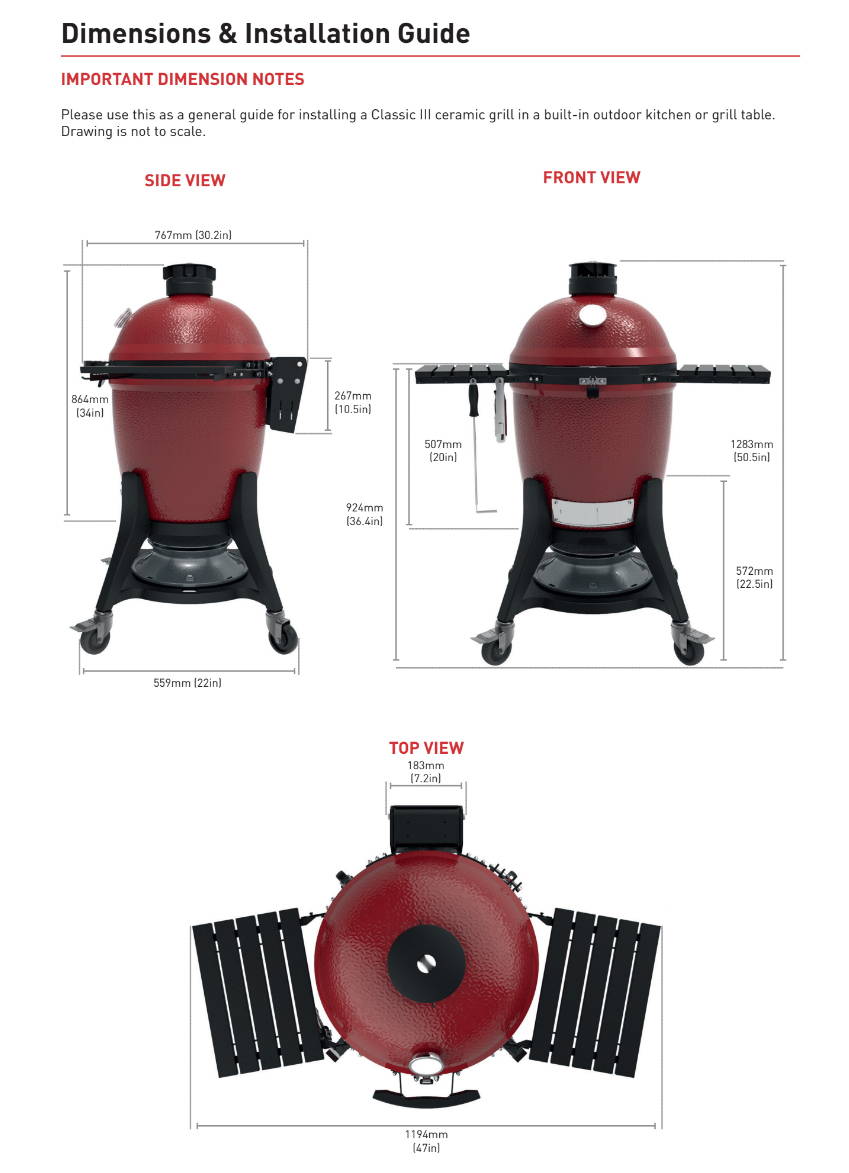 We had our first Kamado Joe years ago. We've watched the company grow to become the force that drives the ceramic grill landscape. Yes, it can be said: Kamado Joe is pushing other major ceramic grill companies to make changes. With Ceramic Grill Store and Kamado Joe, you'll have the most innovative forces in the ceramic grill world supporting you.
We recognize you can buy a Kamado Joe from several online resellers. We ask you buy from us....Kamado grills are what we do! From Kamado Joe, you'll have a premier grill that is backed by best in industry customer service and warranty program. With us, you'll have over 13 years of ceramic grill experience to draw upon with a simple phone call. And, it's at a great price, best online and in North Texas.
Please call us if you have questions or need help picking a grill. We can help. Thanks for supporting our family business!