Woo Ring for the XL Big Green Egg® - Grilling
Woo Ring for the XL Big Green Egg® - Grilling
High Temp & Raised Grid Grilling with the XL Woo Ring
Grilling Inside The Fire Ring 
The XL Woo's lower ring drops 1.25" to 2" into the fire ring and creates a platform to sear. blacken or wok near the fire.  By dropping closer to the lump, you get the same char results but with lower temperatures than if searing on top of the fire ring.  When the desired char is obtained, you move the steaks up to a raised grid or over to a cooler side of the grill and roast the steaks to the desired doneness.
Searing can be accomplished using Big Green Egg's® 15" or 18" cast iron grid.  The 18" CI Grid is a good match to the inside diameter of the the fire ring.  The 15" CI grid is a good alternative if you typically do 6 or fewer steaks.  
Blackening is possible using Lodge's APD3 & our Ang-L Brackets.  The Ang-L Brackets partition the firebox for a controlled burn.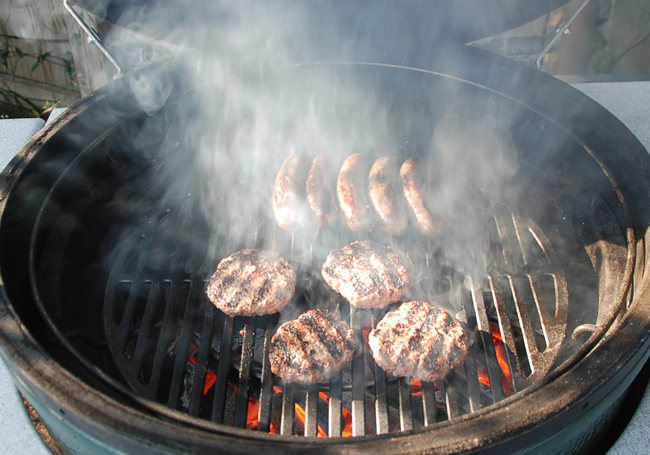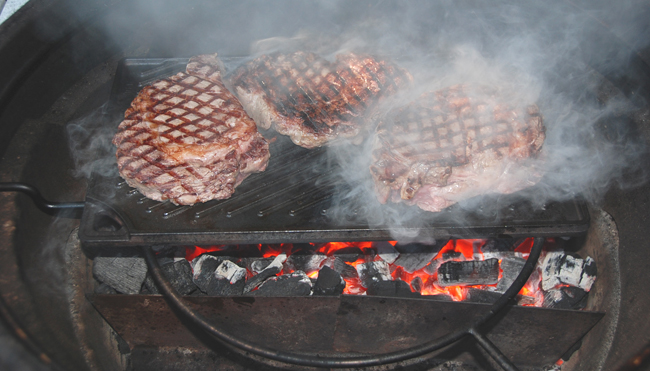 Using pieces smaller than 14" requires a grid under the piece.  We recommend our 13"x17" Oval Stainless Grid.
 Add a piece of your favorite wood on the hot searing grid for smoke.  This keeps the wood from direct contact with the lump, so the wood slowly smolders.
Grilling at the Felt Line
The XL Woo puts the 24" egg® grid just below the felt line.  Both, the Big Green Egg® half and full XL grids fit atop the XL Woo.  With the 24" egg® grid above the fire ring, more of the grid is available for grilling.  Plus, handling tongs or turners is much easier. 
The set-up is quick: drop the XL Woo on the fire ring and set the XL grid atop the Woo.  The Woo's top ring slips between the grid's outer band and center support crosswires, keeping it properly positioned.
If the grill is running hot or you need to slow the cook down, you can change to an indirect set-up with a half stone.  Pictured below is the 9"x19" Half Ceramic Stone.  The Half Stone can be set along the front, back or either side.  See below.
If the grill is creating hot spots across the grid, you can quickly spin the grid to minimize their affects.  To spin the grid, just slip tongs through the grid crosswires and turn, as pictured below.
XL Woo with the Ang-L or Lump Reducing Rings
With small grilling cooks, we recommend using either the Lump Reducing Ring(s) or Ang-L Brackets to manage the lump.  By controlling the lump burn you manage the heat pattern over the grid.  Checkout the Ang-L and Reducing Ring page for more info.