Woo Ring for Small Big Green Egg®
Small Woo Ring for the Small Big Green Egg®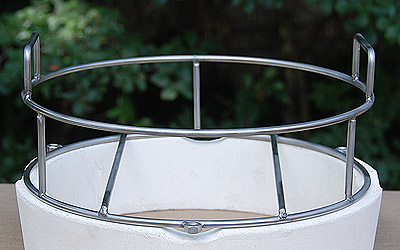 The Small Woo is designed to fit Big Green Egg's small grill with a 13" grid.  The standard Small Woo raises the grid 3.25" to the felt line.  If you want to go lower or higher with the grid, we can customize your Small Woo's height at no additional charge.  Just write us a note with your special height requirements when completing the check out process.  Going higher will eliminate the handles.
The Small Woo sits atop the Big Green Egg® fire ring and creates a direct, raised grid set-up, pictured left.  Add our 10" Round Ceramic Stone and 10" Stainless Drip Pan on the two crossbar supports for a raised, indirect set-up, pictured below right.
The Small Woo is fabricated with 1/4" diameter, 304 grade Stainless Steel.  The two fixed crossbar supports on the lower ring are 5-1/2 inches apart.  The inside diameter of the upper and lower rings is approximately 11-1/2".  Three spacers around the lower ring keep the Small Woo uniformly positioned atop the Big Green Egg® fire ring.  The handles make for easy in and out of the grill.
The Big Green Egg® stainless grid pictured is not included with the Small Woo.  The ceramic stone and stainless pan are not included but available on our site.