Spider for the XL Big Green Egg® - High Temp Searing
Spider for the XL Big Green Egg® - High Temp Searing
High Temperature Grilling - Searing, Blackening or Wokking with the XL Spider
Producing a mouth watering steak with the XL Spider and XL Adjustable Rig can be accomplished in two simple steps.  First, sear/blacken the steak and then move the steaks up to roast to the desired doneness or internal temperature.  This two step process, sear then roast, is akin to a chef searing/blackening on the stove top and finishing to temperature in the oven.
By using the XL Spider as a platform, the cooking surface is placed closer to the lump than if set atop the fire ring.  Having the cooking surface closer means you do not have to get the lump as hot to achieve the same results.
The cooking surface needs to be something other than the 24-inch XL grid.  It's too big to fit inside the fire ring.  We recommend BGE's 15-inch medium or 18-inch large cast iron girds (models 15CI and 18CI, respectfully).  If you routinely do large numbers of steak, go with the 18.  If you routinely do four or less steaks, the 15 is a good choice.  The 15-inch diameter matches well with our Lump Reducing Rings.  
Pictured below on the left is Big Green Egg's large cast iron grid (18CI).  Pictured on the right is our XL Open Bar Lump Reducing Ring under the XL Spider.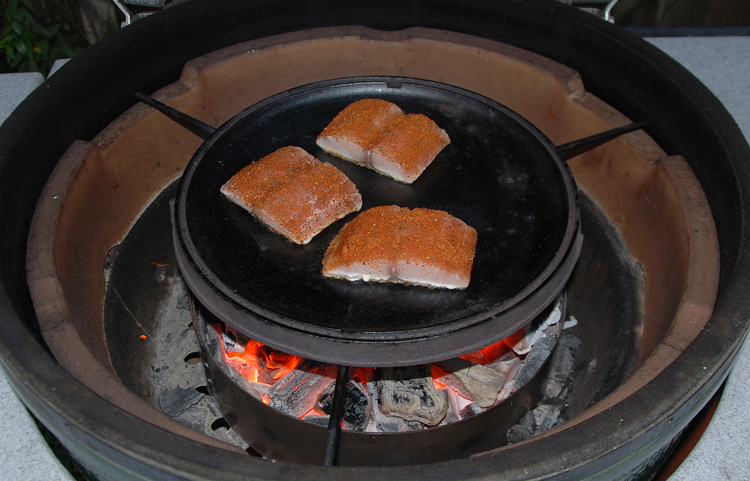 For blackening, one surface option is Lodge's Cast Iron Reversible Griddle, LDP3.  The griddle is 16-3/4" x 9-1/2" and comes pre-seasoned.  A potential set-up option is our Ang-L Brackets with the Lodge griddle.  Positioning the Ang-L Brackets along the cooker's front side can help minimize the heat rising along the front (working side) of the cooker.
 Depending on the fire, a piece or two of your favorite wood can be dropped on the searing grid for smoke.  This keeps the wood from direct contact with the lump, so the wood only smolders.  Lastly, we recommend keeping the XL Spider set-up in place while finishing the cook on the upper grid.  No need to handle very hot pieces right away.
Wokking with the XL Spider
We recommend and offer two wok sizes: 16 and 19 inch diameters.  The woks are round bottom and fabricated from carbon steel.  Thin carbon steel is the preferred wokking metal, as it passes heat quickly.  Like cast iron cookware, woks need to be seasoned to preserve the cooking surface.The 16" wok is pictured below on the left.  The 19" wok is below right.
 
One way to control the lump while wokking is to use one of our lump reducing rings.  The match nicely and control the heat to the bottoms side of the wok.  The lump reducing rings are approximately 14" in diameter. 
Check out our wok info page to learn more. It can be found here.