Large Spider for Vision™ Grills - Specs
Large Spider for Vision™ Grills - Specs
Large Spider for Vision Grills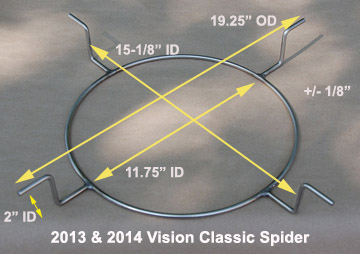 Specs:
Outside diameter of the ring is approximately 12.25".
4 legs rest on the fire bowl.
Sitting down into the fire bowl, the Spider drops approximately 2" into the fire bowl.
Sitting inverted (up), the Spider is approximately 2.5" above the fire bowl. 
Material is 1/4", 304 Stainless Steel round bar.
Tig welds connect the five legs to the ring.  Best connection methods for added strength, durability & clean look.
The Spider is passivated for improved protection against corrosion at the weld joints from the high temperature environment. 
Spider weighs approximately one pound.
Made in the USA by CGS.
Accessory Recommendations:
12 - 15" cast iron grids; 
our 16" Round bottom wok;
our 13" or 15" Round Ceramic Stone for indirect;
our 14" Round Stainless Drip Pan for atop the stone.