Large Spider for Vision™ Grills - Introduction
Large Spider for Vision™ Grills - Introduction
 

Large Spider for Vision™ Grills - Classic, Professional & Signature Series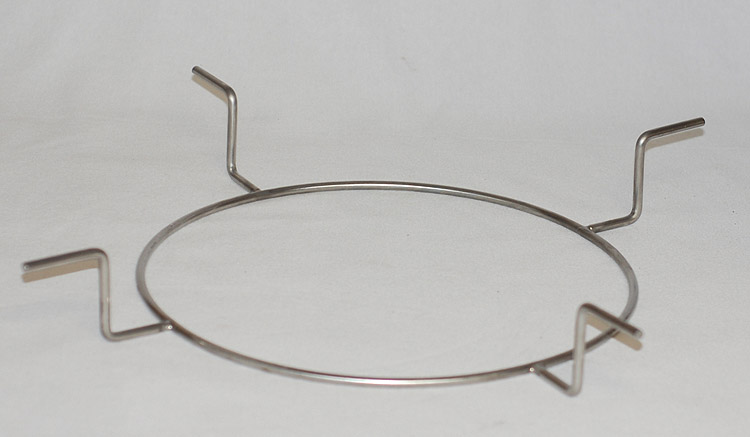 Introduction:
The Large Spider is one of our cool, yet simple, inventions.  We named it the Spider because if you turn it legs down, the legs look like spider legs.  The Spider could skedaddle away!  It's a work-horse that can be used with the Large Adjustable Rig or combined with other pieces for new cooking experiences. 
The Spider sits atop the grill's fire bowl.  The Spider can hang down inside the fire bowl or sit up above the fire bowl.  In the hanging position, the Spider drops approximately 2" into the fire bowl.  Up, the Spider sits approximately 2.5" above the fire bowl.
| | |
| --- | --- |
|   | |
Check out the additional pages on how to use the Spider.  Set-up indirect with a ceramic stone for low & slow, BBQ, cooks.  Add a cast iron grid/griddle to sear or blacken close to fire. Or, use a 16" wok for a fast Asian cook.  
Please read the warnings and safeguards below:
WARNING: For self protection, anyone using a ceramic cooker needs to understand the principals and preventive methods surrounding a Flashback, including Flashbacks from the lower slider vent, felt rim opening and/or top daisy wheel vent.  Please consult your ceramic grill manufacturer or retailer for Flashback details and preventative measures before attempting any cook in a ceramic cooker, including cooks with or without, the Spider, Woo Rings or Adjustable Rig.  Keep children away from the cooker, especially the lower slider opening, at all times.
WARNING: Only remove the Spider, grid on Spider, pan/skillet on Spider when the cooker has cooled to ambient temperatures.  Do not remove the Spider, grid, pan or skillet during a high temperature (>300 degrees Fahrenheit) cook.  The cooker can flashback.  The dome thermometer or remote sensing probes positioned above the fire ring are not an accurate measure of the temperatures in the fire ring, firebox or fire bowl.  The temperatures in the fire ring, firebox or fire bowl can be much higher.  Lump burns in excess of 1000 degrees Fahrenheit.  Adequate hand protection is required when removing heated items from the cooker.