Large Spider Vision™ Grills - High Temp Searing
Large Spider Vision™ Grills - High Temp Searing
Large Spider for Vision™ Grills - High Temp Searing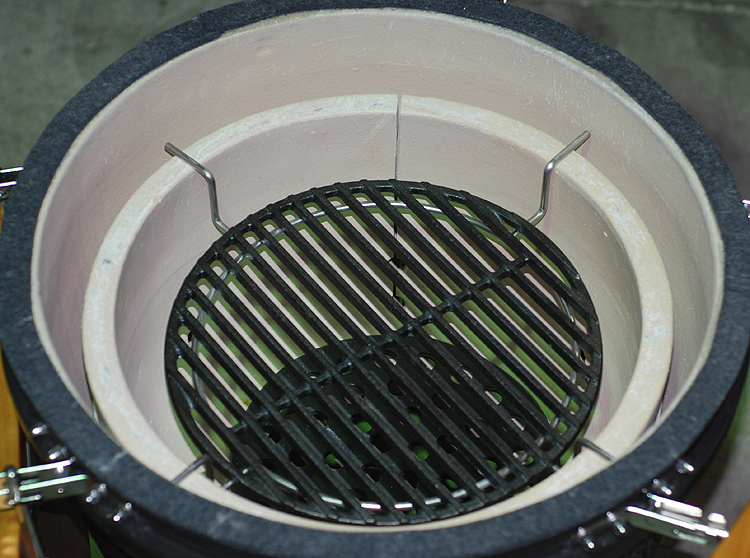 The Spider provides the platform to sear, black or wok close to the lump.  Any surface 12" - 15" in diameter will fit the spider. The most common surface is a small, 13" cast iron grid.     
Producing that perfect steak is a two-step process:
sear close the lump to produce the right amount of char; then,

move up in the in the dome to roast to the desired doneness.  
By searing closer to the lump, you can get the same char results but with lower temperatures than if searing on top of the fire ring.  When the desired char is obtained, you move the cook up to a top grid.  Here, you stop the searing process and basically roast the meat to the desired doneness.  This two-step process, sear then roast, is akin to a chef searing on a stove top and sliding the pan in the oven to finish.
If you are a fan of the reverse sear, then roast on an upper grid while the cast iron grid heats up below.   
You can keep the searing grid in place while finishing the cook on the upper grid.  Depending on the fire, a piece or two of your favorite wood can be dropped on the searing grid for smoke.  This keeps the wood from direct contact with the lump, so the wood only smolders.
The Spider in the up position can hold a larger cast iron grid.  One benefit with this set-up is the CI grid is closer to the felt line, so handling spatulas or turners with burgers and such is much easier.  Pictured below is Big Green Egg's® large cast iron grid, (model 18CI).  Note, this does not work with the Vision stock grid.