Shop Kamado Joe - We Ship!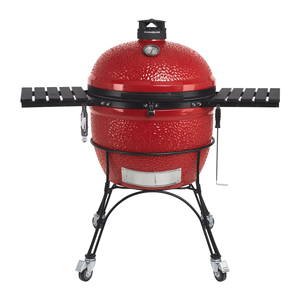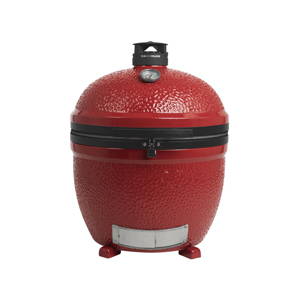 Looking for a ceramic grill? Truth be told, at home our favorite Kamado Joe is the Big Joe. We've come to appreciate the Big Joe's expanded cooking area when smoking BBQ. Simply, when shopping for briskets at the local butcher shop, we don't worry about size.
We dig being able to smoke the babyback 3 packs from Costco/Sams flat and whole on a single grid. And what's BBQ without creating a little showmanship....nothing better than unwrapping a honking big brisket or stretching out side-by-side killer ribs with friends gathered around!
If you get a Big Joe, please do not pass on this Combo offer - check the video. At $99, we made it very affordable. You'll love the added versatility, convenience and capacity the Combo brings to the Big Joe. Make it your first Big Joe accessory purchase.
We can configure the Adjustable Rig to do even more but since you are new to the Big Joe, the Combo is a great starting point. More Combo fun will be easy to add later!

We recognize you can buy a Kamado Joe from several dealers. We ask you buy from us....Ceramic Grills are what we do! From Kamado Joe, you'll have a premier grill that is backed by best in industry customer service and warranty program. With us, you'll have over 13 years of ceramic grill experience to draw upon with a simple phone call.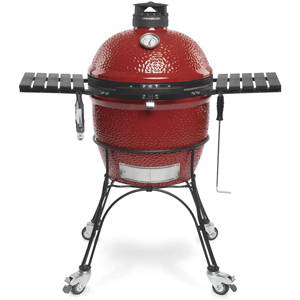 The Kamado Joe Classic is the perfect family size ceramic grill. The Classic is large enough to feed 4-6 with little effort. With the Classic, virtually any cook is possible: cold smoke, grill, low & slow BBQ, sear/blacken/char, bake, bake/grill pizza and wok hot & fast.
The Air Lift-Hinge, Advanced Multi-Panel Firebox, Wire Mesh Fiberglass Gasket and Kontrol Tower Top vent are standard equipment on the Classic II and III. And, don't forget every Kamado Joe includes the Divide & Conquer® Flexible Cooking System, 3" Face Thermometer, heavy duty stainless cooking grids and patented slide-out ash drawer for easy cleaning.
Classic III upgrades include a 3 tier Divide & Conquer rack system, Charcoal Basket, Hyperbolic Insert, deeper base and lower storage shelf on the Cart.These improvements make Kamado Joe one of the finest ceramic grills for backyard enjoyment. You'll create some incredible food.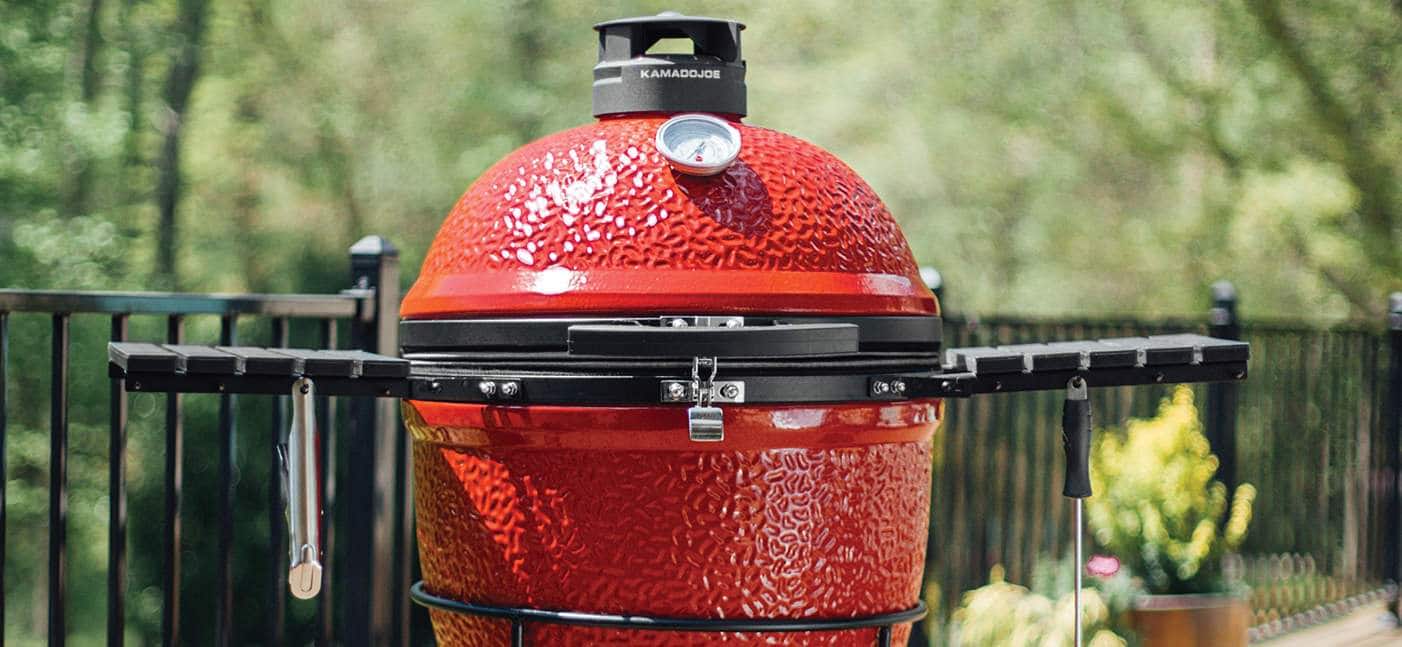 The Kamado Joe Classic, KJ23RHC, includes the heavy duty rolling cast iron cart with locking wheels and folding HDPE side shelves. If you need a Classic Joe for a table or built-in application, checkout the KJ23NRHC - it has ceramic feet instead of the Cart/Shelves and is less money.
Joe Junior is perfect for tailgates, picnics, pool parties, camping and more, Joe Jr. weighs only 68 pounds and boasts a 138 square-inch cooking surface, ample space for a full beer can chicken with vegetables.
The thick-walled ceramic body locks in heat, moisture and flavor, and the heat deflector plate allows cooks to experiment with indirect heat for more flexible cooking.

At the game, on the lake or wherever life takes you, the Joe Junior packages all the ceramic grill quality and features Kamado Joe is known for in a smaller, lighter design. The custom stand, which is included with the grill, features built-in handles for easy carrying.
Various portable grills promise convenience, but none promise convenience and the rich, smoky flavors of a genuine Kamado Joe. The Joe Junior delivers on both and even allows you to integrate wood chips and chunks in your on-the-go cook. It's Big Joe proficiency in a Junior Joe size!
Kamado Joe III
New 2019.....Coming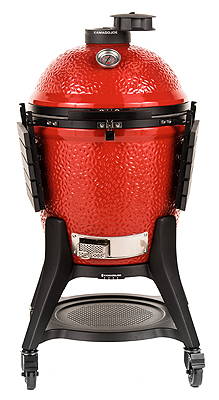 Standard Equipment