Vision Woo Ring Classic Pro S Series
The Large Woo Ring Classic and Professional Vision™ Grills
 The Vision Woo fits 2014 and newer Vision Classic, Professional and Signature Series grills.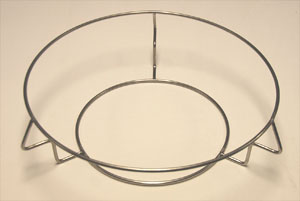 It's an easy way to raise the Vison main (lower) grid to the felt line for raised grid, direct cooks.  Or, add the 13" Round Ceramic Stone and 14" Stainless Drip Pan on the lower Spider ring to create an indirect (BBQ) set-up with the Vision grid(s) at or above the felt line.
The Vision Woo is an economical solution that utilizes the Vision gids.  It's an easy way to raise the grid(s).
It's also possible to add a small cast iron grid on the Woo's lower ring and sear close to the lump.  The lower ring also holds Ceramic Grill Store's 16" wok for cooking Asian style..
Vision Woo Ring Classic Pro S Series