Model KAB-VB-SS Stainless Steel Kick Ash Basket
Free Lump Rake Included 
Perfect for moving hot lump around the firebox
Ideal for breaking up large lump chunks 
Ideal for: 

CHECK DIMENSIONS FOR FIT BEFORE ORDERING
- Vision, 
- Grill Dome XL

Important:
Before ordering, please measure the inside diameter of the fire bowl to insure the basket will fit. Basket measurements are below. 
3 year manufacturer's warranty

Heavy duty stainless steel wire

Electropolished stainless steel

12" Bottom Dia., 15.75" Top Dia. and 4" Depth

Overall height is 5.5" including handles

Use with or without your lower charcoal grate

Basket does not interfere with the Spider, Woo or Adjustable Rig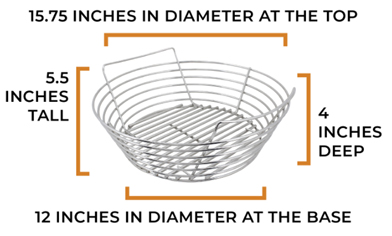 Optional CGS Adjustable Basket Divider
All 1/4" Round Stainless Steel Rod;
Adjustable - Place in your basket to allow for 1/3 to 2/3 of your typical lump volume
Uses: Lump Reduction, Indirect and Direct Grilling at the same time
For Vision, very good chance the basket won't fit Signature or Vision C Series grills.