Best online deal gets better, each Big Joe 2 gets our new CGS Expander Rack free. It's a Holiday Special.
The Kamado Joe Big Joe comes in two models. The BJ24RHC includes the cart & side shelves. The BJ24NRCH (standalone) is for table or built-in applications and includes 4 ceramic feet. Big Joe 2 ships from Kamado Joe.
Ceramic Grill Store, Best Prices, Coolest Accessories, we've been at it since 2005 and do it better than anyone! Best Kamado Joe dealer in Dallas Fort Worth Metroplex. It's all about the Big Joe here!
Ship it - sure! We got it covered. Big Joe ships directly from Kamado Joe, LTL freight for $99. Residential delivery includes liftgate service and delivery appointment. Trust us on needing the liftgate service. We take the hassle out of getting the grill home. If you are local to Denton TX, checkout our in store specials and save more.
A Heads-up: From time to time, a website offers an Accessory Package (heat deflector, cooking rack, grate gripper & ash tool) as a Free Gift. Just to let you know, these items come standard with all Kamado Joes. You get them automatically from Joe. We mention this because several of ya'll have asked us about it.
Ok, truth be told, at home our favorite Kamado Joe is the Big Joe. We've come to appreciate the Big Joe's expanded cooking area when smoking BBQ. Simply, when shopping for briskets at the local butcher shop, we don't worry about size. We dig being able to smoke the babyback 3 packs from Costco/Sams flat and whole on a single grid. And what's BBQ without creating a little showmanship....nothing better than unwrapping a honking big brisket or stretching out side-by-side killer ribs with friends gathered around!

The Big Joe's size makes grilling cooks routing and effortless, especially when partitioning the cooking surfaces. The lump divider helps when creating dual temperature zones on split grids. Plus the divider saves on fuel when grilling small.
If you can't decide, Classic or Big Joe, consider this. Our phone rings everyday from folks all over America and this is what grill owners with an 18" cooking grid typically say: The grill is big enough for the immediate family but when we entertain, we're scrambling for grid space. Plus, on an 18" grid, you're limited to approximately 12-14 lb. brisket. That's a lot of meat but that size brisket can be hard to find.
So, if you're on the fence and can afford it, our recommendation is....go Big Joe with a 24" cooking grid. And with our Combo offer, you'll have a tremendous amount of grilling and smoking capability - the best grill investment!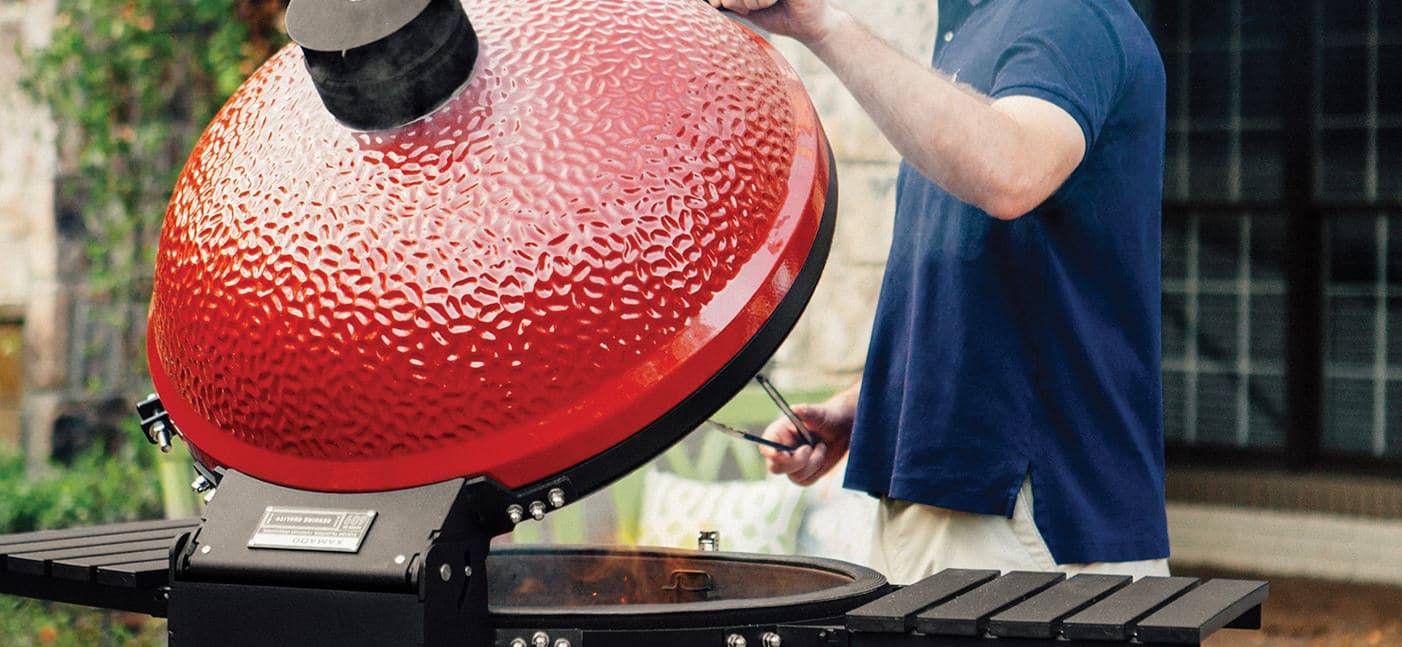 BJ-24RHC is the cart package, includes a heavy duty rolling cast iron cart, locking wheels and folding HDPE side shelves.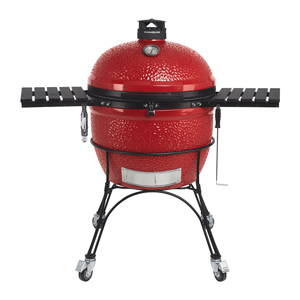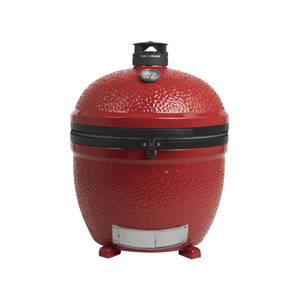 BJ-24NRHC is for a table or built-in application. It includes four ceramic feet instead of the Cart/Shelves and is less money.
Specifications
Cart/Side Shelves Dimensions: 54"W x 50"H x 31"D
Cooking Grid Diameter: 24"
Cooking Area: 452 sq in
Weight 250 lbs unboxed
Materials
Base/Dome High Fire Heat-Resistant Ceramics
Glaze Heat-Resistant Ceramic Coating
FireBox High-Fire Heat-Resistant Ceramics
Grill Grates 304 Stainless Steel
Bottom Vent 304 Stainless Steel
FireBox Ring 304 Stainless Steel
Hinge Full Counter Balanced Steel
Top Vent Cast Aluminum
Latch Aluminum
Cart Powder-Coated Cast Iron
Handles/Shelves HDPE (High-Density Polyethylene)

Gasket Wire Mesh Fiberglass
340 lbs. Boxed Big Joe with Cart: 39 x 36 x 39
320 lbs. Boxed Big Joe Standalone: 37 x 32 x 38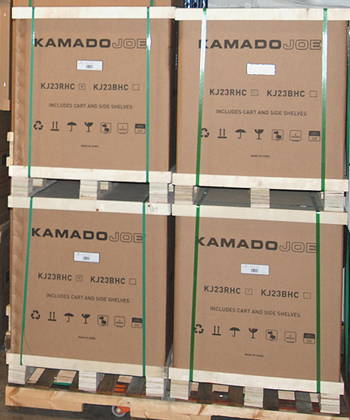 The Big Joe comes in a big, heavy box. To transport the box, it takes an open bed pick up truck. If you plan on using a large SUV, you'll need plenty of open space in the SUV, as everything in the grill will need to come out.
Standard Features - Big Joe
Like the Classic II, the Kamado Joe Big Joe comes fully equipped, as listed below. These features make the Kamado Joe Big Joe one of the finest ceramic grills for backyard enjoyment. You'll create some incredible food and memories.
Divide & Conquer® Flexible Cooking System
Air Lift Hinge
Kontrol Tower Top Vent
AMP (multi-piece) FireBox
Stainless Steel Latch
Wire Mesh Fiberglass Gasket
Patented Slide-Out Ash Drawer
Built-in Thermometer
Cast iron Firebox Divider
Grill Gripper & Ash Tool
| | |
| --- | --- |
| Standard Big Joe Features | |
| | |
| | |
| | |
| | |
Install Guidelines - Table or Built-In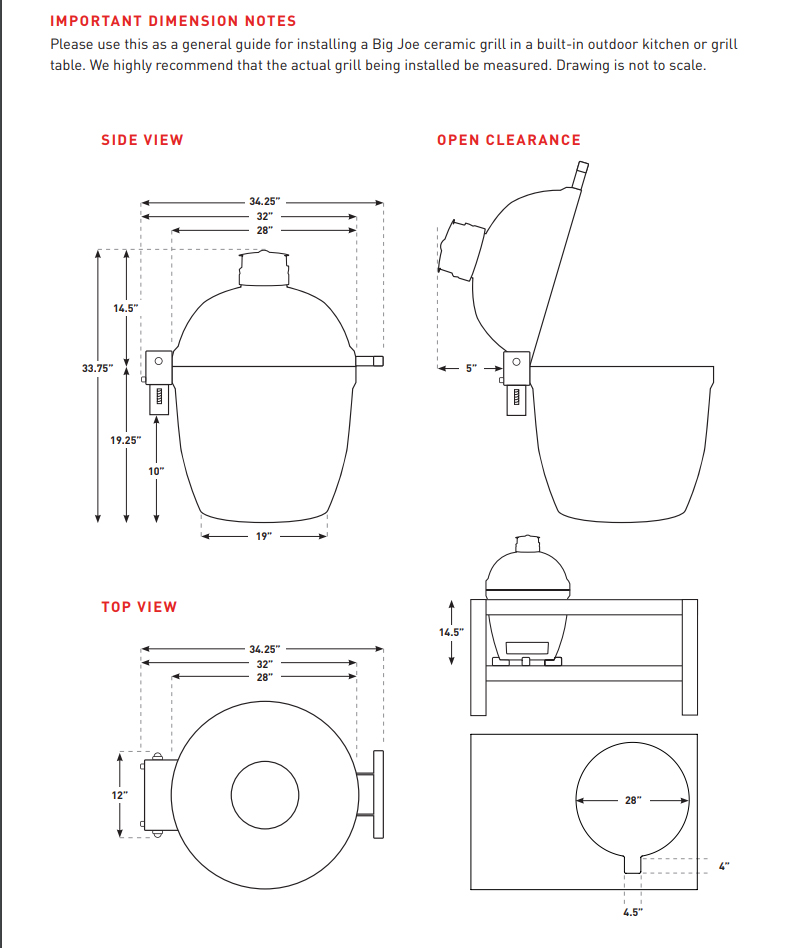 We recognize you can buy a Kamado Joe from several online resellers. We ask you buy from us....Ceramic Grills are what we do! From Kamado Joe, you'll have a premier grill that is backed by best in industry customer service and warranty program. With us, you'll have over 13 years of ceramic grill experience to draw upon with a simple phone call. Gotta love our prices too!
Your grill ships via LTL to a residential or commercial address. The freight line will call to schedule a delivery time and liftgate service is available at no extra charge. We take the guesswork out of deliveries.