Clasic Joe 2 Discount Codes - Save
| | |
| --- | --- |
| | |
| | Use 230KJ2 Discount Code @ Checkout |
| | Use 125KJ2 Discount Code @ Checkout |
Discount Codes:
230KJ2 for CLASSIC 2 with Cart & Side Shelves

125KJ2 for CLASSIC 2 for Built-in or Table
Kamado Joe anticipates new orders ship mid to late July.  
The Kamado Joe Classic II comes in two models. The KJ23RHC is the stand alone with cart & side shelves. The KJ23NRCH is for table or built-in applications and includes 3 ceramic feet.
Shipping:  We have it covered with FREE shipping. The Classic Joes ship via LTL freight truck with liftgate service and delivery appointment. Trust us on needing the liftgate. Other accessories will ship from Kamado Joe or us, whichever is easiest. You'll receive tracking info on all shipments. We take the hassle out of getting the grill home. If you are local to the DFW Metroplex, stop by our store in Denton and save more.
A Heads-up:  From time to time, other websites offer an Free Accessory Package (heat deflector, D&C cooking rack, grid gripper & ash tool) as an enticement to purchase. Just to let you know, these items come standard with all Big Joes 2 grills. You get them automatically with the grill. We mention this because several of ya'll have asked us about it.
Authorized Dealer:  Ceramic Grill Store is an authorized Kamado Joe dealer for both, online and in-store, sales. We started selling Kamado Joes in 2014. We've watched the company grow to become the force that drives the ceramic grill landscape. Yes, it can be said: Kamado Joe is pushing other major ceramic grill companies to make changes. With Ceramic Grill Store and Kamado Joe, you'll have the most innovative forces in the ceramic grill world supporting you.
On a Kamado Joe ceramic grill, virtually any cook is possible: cold smoke, grill, low & slow BBQ, sear/blacken/char, bake, bake/grill pizza and wok hot & fast. There are only two cooks we don't recommend, although possible are deep oil frying and dehydrating.
The Classic Joe II improvements include Air Lift-Hinge, Advanced Multi-Panel Firebox, Wire Mesh Fiberglass Gasket and Kontrol Tower Top vent.
And, don't forget every Kamado Joe Classic II includes the Divide & Conquer® Flexible Cooking System, 3" Face Thermometer, heavy duty stainless cooking grids and patented slide-out ash drawer for easy cleaning. These improvements make Kamado Joe one of the finest ceramic grills for backyard enjoyment. You'll create some incredible food.
The Kamado Joe Classic, KJ23RHC, includes the heavy duty rolling cast iron cart with locking wheels and folding HDPE side shelves.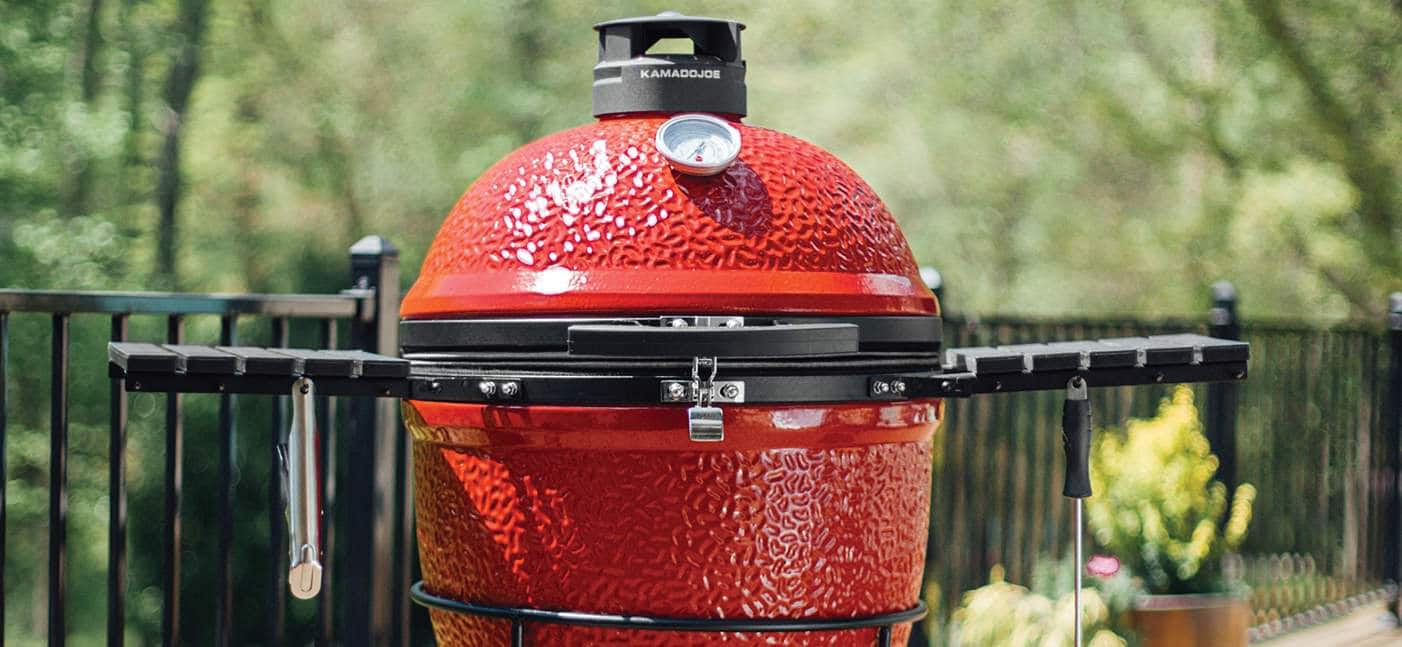 If you need a Classic Joe for a table or built-in application, checkout the KJ23NRHC - it has ceramic feet instead of the Cart/Shelves and is less money.

KJ23RHC II, cart/side shelves, is shown for simplicity. Similar internals for KJ23NRHC II for table or built-in. Just add 3 ceramic feet.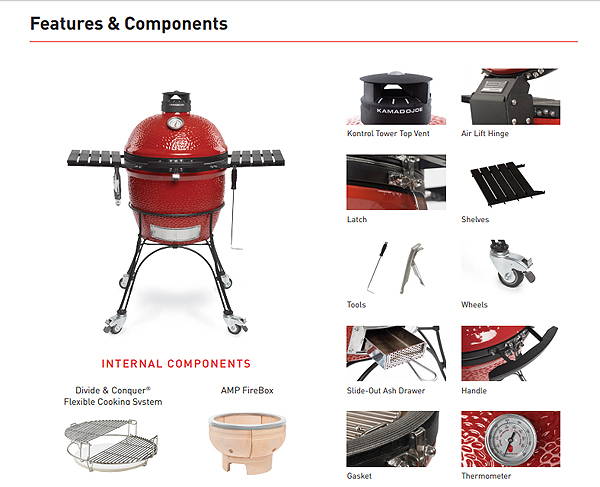 Classic Joe II Specifications
Specifications
Cart/Side Shelves Dimensions: 46.5"W x 48"H x 28"D
Cooking Grid Diameter: 18"
Cooking Area: 256 sq in
Weight 200 lbs unboxed
Materials
Base/Dome High Fire Heat-Resistant Ceramics
Glaze Heat-Resistant Ceramic Coating
FireBox High-Fire Heat-Resistant Ceramics
Grill Grates 304 Stainless Steel
Bottom Vent 304 Stainless Steel
FireBox Ring 304 Stainless Steel
Hinge Full Counter Balanced Steel
Top Vent Cast Aluminum
Latch Aluminum
Cart Powder-Coated Cast Iron
Handles/Shelves HDPE (High-Density Polyethylene)

Gasket Wire Mesh Fiberglass
240 lbs. Boxed Classic Joe with Cart: 39 x 36 x 39
220 lbs. Boxed Big Joe Standalone: 37 x 32 x 38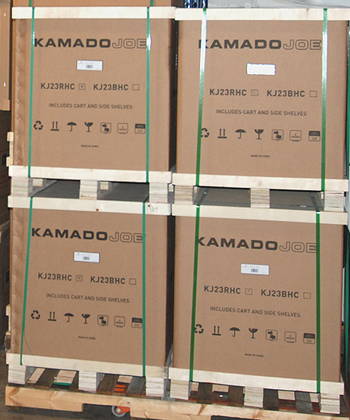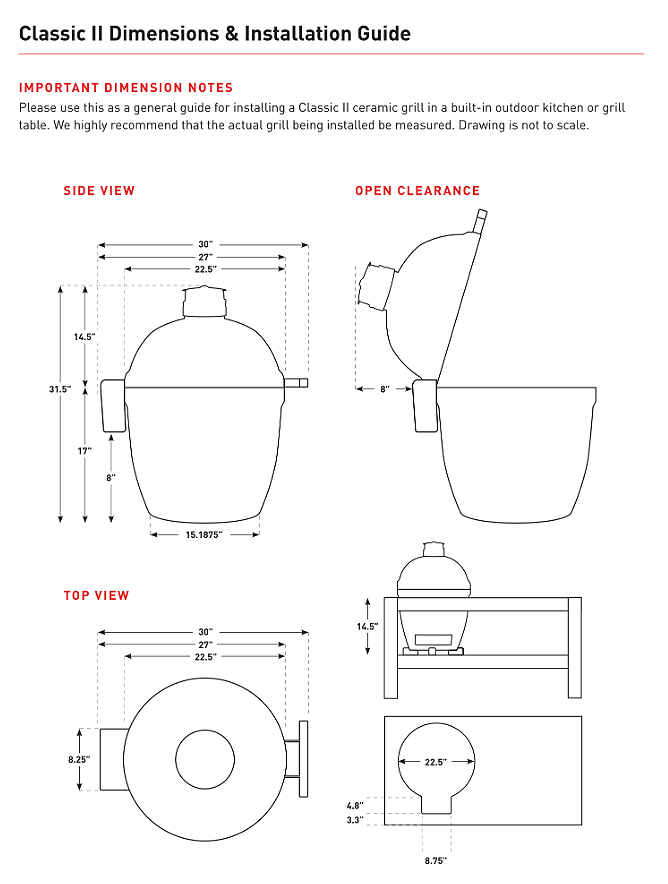 We recognize you can buy a Kamado Joe from several online resellers. We ask you buy from us....Ceramic Grills are what we do! From Kamado Joe, you'll have a premier grill that is backed by best in industry customer service and warranty program. With us, you'll have over 13 years of ceramic grill experience to draw upon with a simple phone call. Plus, we price them right.
Please call us if you have questions or need help picking a grill. We can help. Thanks for supporting our family business!